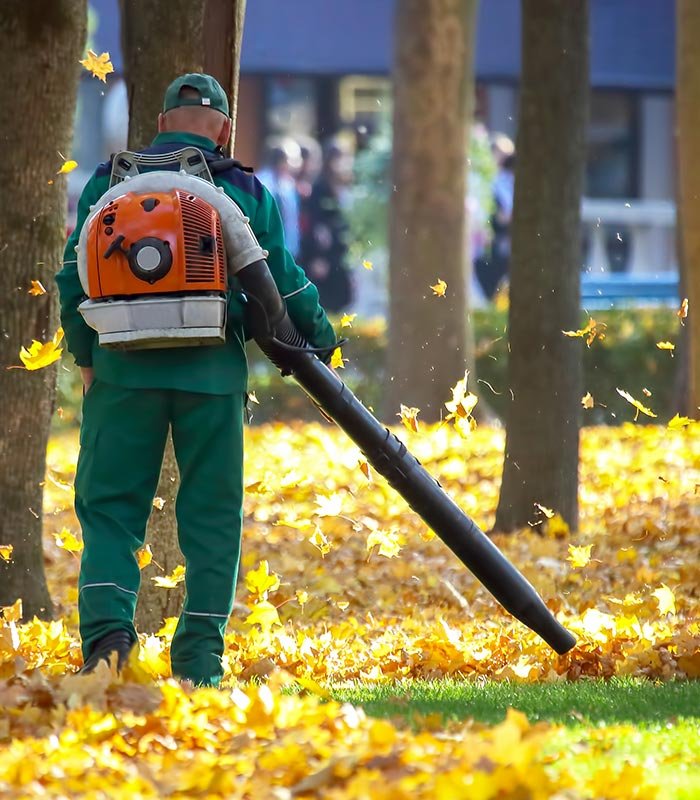 Putting in some work in the autumn will bring a big payoff in the spring. Turf health is absolutely critical to maintaining an attractive property, and if you neglect your fall chores this year, your grass will suffer and show signs of neglect when the snow melts and the weather starts to warm up. Do you want your grass to green up early in the spring? Then ensure that raking to remove leaves and thatch is done thoroughly prior to winter.
Seasons 360's Fall Cleanup Service takes care of all the details for you and depending on your property can include:
Raking and collection of leaves and debris.
Pruning your shrubs and hedges.
Winterizing your gardens.
A final grass mowing of your lawn.
READY TO FALL BACK INTO COOL EVENINGS AND CHANGING COLOURS?
 Fall is a great time to make memories in piles of leaves for the family. However piles of leaves is a reminder of problematic and time consuming seasonal chore. Our fall clean ups prevent your lawn from suffocating the soil, harbouring moisture, growIng mold and the spread of winter diseases through roots.
Your yard demands some TLC for cooling temperature and approaching flurries before you grab hot cocoa and cozy sweaters.
Let us take care of the hard work for you.
Did you know that the leaves layering overtop of your lawn changes your soil's pH to dangerous levels and changes the microclimate of your yard? Sounds like a spring fall cleanup is in order.
Is the pH of the soil so high that the lawn has stopped growing or worse yet, started to die?
Spring and fall seasons are perfect for residential property cleanups. It doesn't matter if you are looking for a quick clean-up or a major landscape overhaul, we can bring back the overall health of your lawn and build a landscape that you can be proud of.
We understand why you may be apprehensive, achieving this may seem unrealistic, but it can become a reality.
Cleaning up your lawn and landscape in the fall is a lot of work, so consider hiring Seasons 360 to handle your yard clean up and lawn maintenance.
Fall Yard Clean-Up Overview:
Cleanup yard debris
Remove fallen leaves, branches, and weeds that can smother grass and provide shelter for yard pests in the winter. Clear out flower beds to keep the critters out and get a head start on planting next spring.
Trim Unwanted Branches
Remove dead, broken, or otherwise unruly tree branches that may cause trouble during the winter. Dead or dying branches can break and fall during winter.
Aerate The Lawn
Break up compressed soil to keep water from pooling and help ensure that nutrients will reach the roots over the winter.
Feed The Lawn
Your lawn should be well-fed with a fall lawn fertilizer with high phosphorous content to encourage root growth and enjoy a lush, green lawn come spring.
Prune Trees and Shrubs
Trim dead branches and cut back overgrown trees and bushes. Now is also the time to prune and train the branches of blooming perennials like clematis or roses.
Rake and Mulch
If you have a lot of fallen leaves on the lawn, raking and mulching them can keep them from suffocating your grass, and mulching will help supply nutrients for new growth in the future.
Plant Bulbs, Shrubs, and Fall Annuals
Some plants do better when planted in the fall. New shrubs or spring bulbs like hyacinth should be planted now. Fall annuals like pansies are also a nice way to keep color in your yard as other plants go to sleep.
One More Mow
Give the lawn a relatively close cut before winter hits. This helps the soil dry out more quickly in the spring, which leads to a greener lusher lawn next year.